If you have also faced difficulty in bowel movements or decreased number of stool passing then you might as well have constipation. We have Constipation Medicine in Pakistan
Constipation and its reasons:
Constipation is a very common and yet very painful condition. If gets worse, it can cause serious health issues as well. While there are many different homemade remedies for treating constipation, if not treated early it may cause serious health concerns that take medicines and surgeries to heal. Your bowel movement differs according to every person's ratio or count of visits to the restroom every day. Some might have a bowel movement twice or thrice a day and some might have only once. Also, usually, having a bowel movement thrice a week is normal but again it depends upon your cycle and your routine. But if you feel you are having a bigger difference in your routine of bowel movement, this is the time of being careful and seeing if you have constipation, then you should buy the Constipation Medicine in Pakistan.
Constipation Process
Constipation occurs when the colon absorbs too much water from the stool than it generally should. The movement of the bowel slows down and it gets harder and harder. Also, when the bowel movement slows down, the colon gets more time to absorb more water from the stool. So for these problems, you need to have a Tablet for Constipation.
Causes of Constipation
It usually occurs due to low fiber intake, poor diet, low water intake, medication, slow metabolism, eating more cheese or milk, having an irregular routine,s and many other reasons and we have Syrup for Constipation in Pakistan for it. Also, some of the major reasons might include:
Age: As older people have lesser activities and rarely move around, the low movements and low metabolism may cause the stool to harden and cause constipation.
Being women: Changing hormones in women during pregnancy or other reasons may cause constipation.
Low fibers: not consuming enough fibers may cause stool to harden
Medicines: it is already known that medicines do affect our stomach. And one of the effects that they have is constipation.
Neurological condition: certain diseases related to the spinal cord or brain and some digestive disorders also cause constipation
Stress/Anxiety: Having stress and anxiety sometimes causes motions, loss of appetite, disturbed sleep but sometimes it can also cause constipation.
Apart from that, controlling your stool for a long time can also cause it to harden which leads to constipation.
Symptoms of constipation:
Constipation can have many symptoms like:
A dry, lumpy and hard stool
Pain while passing stool
Fewer bowel movements in a week or at least fewer than your normal routine
Cramps
Nausea and bloating
Feeling that your bowels are not completely emptied
Complications caused by constipation:
Swollen rectal veins cause a condition called hemorrhoids
Anal fissures are cuts or tears in the lining of the anus
Diverticulitis- where the colon wall is formed off by infections in pouches.
Fecal impaction
Stress urinary incontinence where pelvic floor muscles are damaged and can cause leakage of urine from the bladder
There are many homemade remedies for constipation but in some cases, they do not work well or some people do not want to try those. Then the best solution is trying these medicines for constipation.  Constipation Medicine in Pakistan will help to relieve in constipation.
International and Best Medicine for Constipation in Pakistan:
There are many international brands that make these constipation medicines. Constipation Medicine in Pakistan are available on Amazon:
Miralax
Dulcolax
Fleet
Phillips
Senokot
Ex-Lax
Traditional Medicinals
Best-selling constipation medicines on Amazon:
These constipation medicines are available in different forms like tablets, syrups and more. Some of the best-selling ones with great ratings and reviews on Amazon are:
Phillips' Milk of Magnesia Liquid Laxative with 4,080 global ratings and 4.7 out of 5 (B005TM4DMK)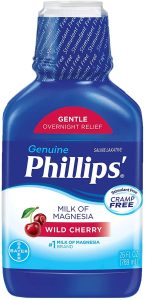 This liquid laxative has magnesium hydroxide that relieves constipation, helps in relieving cramps, and works overnight. T does not have any harsh stimulants thus does not cause any harmful side effects.
Traditional Medicinals Organic Smooth Move Tea with 4,538 global ratings and 4.7 out of 5 star ratings (B0009F3PJE)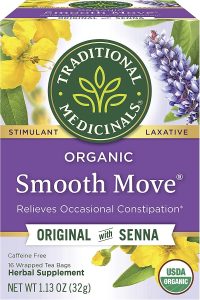 This tea is great in relieving constipation within 6 to 12 hours of its usage. Not only that, it is free of caffeine and all the ingredients are organic. This tea is sweet and has an aroma due to spiced notes of orange.
Dulcolax Liquid Laxative, Stimulant Free for Comfortable Relief with 4,391 global ratings and 4.5 out of 5 star ratings (B07QH2S1VJ)
This is a great liquid laxative in relieving constipation. It helps pass the hardened stools. The magnesium hydroxide it helps draw the water into the colon. By using it, you can get relief in half an hour.
Colace 2-IN-1 Stool Softener & Stimulant Laxative Tablets with 4,148 global ratings and 4.5 out 5 star ratings (B005R3VXEC)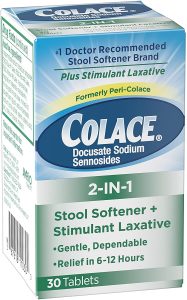 This is the best Tablet for Constipation. These tablets soften and smooth the bowel thus relieving constipation. It also prevents the stool from strain or become dry or hard.
Fleet Laxative Glycerin Suppositories for Adult Constipation with 7,653 global ratings and 4.7 out of 5 stars (B000Q69TK0)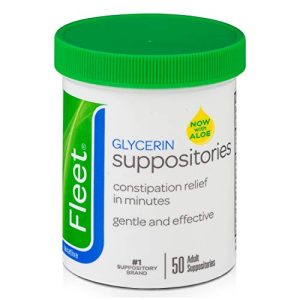 These suppositories have aloe for soothing the bowel. The glycerin in them attracts water into the bowel/stool and makes it easy to pass to relieve occasional constipation. They work and give results in 15 minutes to about 1 hour.
Fleet Laxative Glycerin Suppositories for Adult Constipation with 7,653 global ratings and 4.7 out of 5 stars (B000Q69TK0)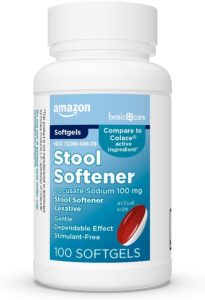 This laxative has docusate sodium in them that is great for relieving constipation. They soften stool and make bowel movements easy in 12-72 hours of their usage. Also, they are great for people from age 2 years and above.
Dr. Tobias Colon 14 Day Cleanse, Supports Healthy Bowel Movements with 64,936 global ratings and 4.3 out of 5 star ratings (B00ISAPPLI)
This medicine has herbs, probiotics, and fibers. It cleanses toxins and waste materials from the body and also makes bowel movements easy. It also helps the increased and easy absorption of nutrients.
MiraLAX Laxative Powder for Gentle Constipation Relief with 19,052 global ratings and 4.8 out of 5 stars (B01MTPCPLS)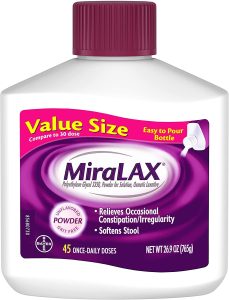 It relieves constipation and softens the stool in the colon by working with water relieves cramps, gas, and bloating. This medicine can be easily dissolved in any hot or cold beverage.
Dulcolax Soft Chews Saline Laxative Mixed Berry Gentle Constipation Relief with 4,468 ratings and 4.3 out of 5 stars (B084W9YBXD)
These laxative chews relieve constipation and provide relief from other constipation related issues. It works in half an hour of its use. They are suitable for people of age 4 years and older.
Senokot Laxative Gummies Dietary Supplement for Occasional Constipation Relief with 3,802 global ratings and 4.4 out of 5 stars ratings (B085SHPYZL)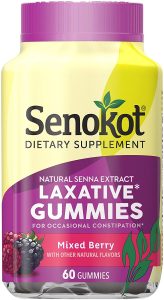 These gummies with berry flavor have senna extract and are great in relieving constipation and other constipation related issues.
Buy constipation medicines in Pakistan from Amazon:
There have been scams with people through online shopping and that is why people are always resilient and overly conscious while shopping online. Syrup for Constipation in Pakistan is available on  Wellshop assure you that we work authentically.
Make sure that our customers get the exact products that they order. We also make sure that we deliver the products within 15-20 working days with lesser prices than other companies in Pakistan. We are always working on delivering the best of our services. Shop from us and you will not be disappointed. You can visit our website, you can contact us anytime and we will help you with anything that we can. You can buy tablet for constipation from Amazon through our website.