Are You Looking to Buy Best multivitamin for men in Pakistan?
Are you looking to buy Best Multivitamin in Pakistan, No wonder this all frustrates you and stops you from having a healthy diet and a healthy lifestyle. With no time for yourself, your health is being compromised. There are certain vitamins essential for the human body that are obtained from several natural sources like food and our environment. But when you are so busy with your work you get no time to prepare healthy meals or to take out time to enjoy nature. The Best Multivitamin in Pakistan is formulated for you people so that you can balance your work and health both without risking any of them.
Multivitamins in Pakistan have several Vitamins and minerals and sometimes may contain some other ingredients. These vitamins are essential for the human body. With the passing of time and increasing technology, our lives are getting busier and more hectic. We barely get time for ourselves. The technology that was initially intended to make our lives easy has made it even busier. Our diet, sleep, mental health, everything is being affected due to our 24/7 work routine. Our poor diet causes deficiency of important vitamins, minerals, and other essentials in our body due to which we face several issues. And if we are not healthy, how can we work well?
Vitamins are essential for providing energy and for several other bodily functions of men. Their deficiency can negatively impact the boxy and may also cause chronic diseases.
Men and women's bodies have different needs so men may need more of some nutrients and less of the others as compared to women. As per the data collected by International Food Council Foundation, most of the men know that the vitamins and a certain change to their diet could benefit them but fewer than half of them actually follow through with it.
Also according to another study, men above the age of 70 need more Vitamin D than middle-aged men do but 72% of them don't get it.
Multivitamins cater to the deficiency of several vitamins in our body. You won't need to spend a lot of time preparing certain foods and items that provide you with essential vitamins as these multivitamins do the job and save your time. There are several vitamins that are essential for men's body especially:
Vitamin A is good for vision, immune health, and skin.
Vitamin C improves the immune system and collagen production. Also slows the aging process.
Vitamin B is good for the metabolism of energy and helps in the production of red blood cells. Folate/folic acid which is a form of B vitamin is good for heart health and also prevents heart diseases.  B12 is good for the normal functioning of the nervous system. You can also get a Vitamin B12 supplement in Pakistan that will cater to your need for Vitamin B12.
Vitamin D and Vitamin K– good for bone health and prevents weak bones and muscles.
Vitamin E– prevents cell damage
So what are you waiting for? Buy the best multivitamin for men in Pakistan through Wellshop because it's time to pamper yourself and feel good about yourself. Best multivitamins in Pakistan come in high quality if you buy from international brands like Amazon, eBay, and other USA based websites through Wellshop which provides you a platform to buy online products in Pakistan.
Having 4.8 out of 5 stars and a global rating of 7,174, these Vitamin C caplets by Nature's Bounty are the best supplement to support and enhance immune health. Vitamin C is considered to be the most important and leading Vitamin for immune support and maintains a healthy immune system all year long. These caplets help in the functioning of white blood cells and white blood cells are known to support the immune system of the body. The free radicals in the body can cause oxidative stress that causes premature aging of cells. Vitamin C also prevents premature aging of the cells by fighting free radicals as the best antioxidant. These Vitamin C caplets do not contain any artificial color, sweeteners, sugar, or gluten.
Natrol Biotin Beauty tablets have 4.6 out of 5 stars and global ratings of 19,332. Biotin is an important Vitamin B that has the properties to maintain healthy skin, hair, and nails. These Biotin tablets by Natrol restore hair health, skin's radiance, and nails' strength. Biotin (A b vitamin) also known as Vitamin H or B7 supports the metabolism and helps to convert food into energy. These 100% vegetarian Natrol Biotin Beauty tablets are a great way to nourish your inner beauty. We are providing imported multivitamins in Pakistan.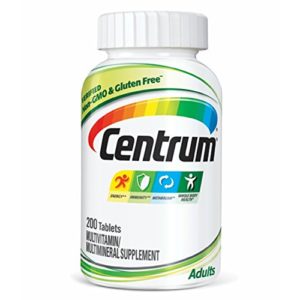 This supplement by Centrum has 4.6 out of 5 stars and global ratings of 116. This Centrum Adult Multivitamin/Multimineral Supplement has B Vitamins, Vitamins C, D, E, Antioxidants, Iron, and Zinc. So it can prove to be the best zinc supplement and a great Vitamin E supplement also. It is specially formulated to fulfill nutritional needs and provide the body with energy, enhanced immunity, and metabolism. It also contains Vitamin D3 which is the most preferred form of Vitamin D. These easy to take tablets support the body from head to toe by increasing energy, immunity, and metabolism. Also, you will find the Best Multivitamins in Pakistan.

These multivitamins have a 4.7 out of 5-star rating and global ratings of 9,287. GNC Mega Men Sport multivitamins in Pakistan provide men with important nutrients to enhance their health, performance, their immunity, muscle function, and antioxidants. The product has a multivitamin blend that is clinically studied which makes this product work far better than the basic multivitamin.  GNC Mega Men Sport Multivitamin has beta-alanine which acts as a buffering precursor to carnosine and cars online are a performance and muscle function factor. It also provides the body with chain amino acids and antioxidants that fight free radicals. The detailed ingredients of GNC Mega Men Sport Multivitamin are Cellulose, Magnesium Stearate Vegetable Source, Stearic Acid Vegetable Source, Titanium Dioxide, Talc, Natural Vanilla Mint Flavor, Caramel Color, and Stevia Leaf Extract. You will get the best gnc multivitamin price in Pakistan.

NATURELO One Daily Multivitamin for Men has 4.6 out of 5 stars and global ratings of 11,031. This product has 23 important vitamins and minerals that support men's health. It also has organic fruits and vegetables blended in that provide antioxidant support and whole food nutrition. This multivitamin for men has plant-based vitamins and minerals like Vitamin D3 from lichen, plant calcium, magnesium from marine algae, Vitamin E from sunflower, and Iodine from kelp. The product also includes Vitamin B12, active B6 as P-5-P, MTHFR-friendly Methyl Folate (not folic acid), vitamin K2 as MK-7, zinc, and selenium. T boosts natural energy, is good for heart health, brain, eye, and immune health. The product is free from preservatives, coloring, gelatin, flavoring, etc. this vegan best multivitamin tablets in Pakistan for men is good for keeping their body functioning at its best.
One A Day Men's Multivitamin

One A Day Men's Multivitamin has 4.7 out of 5 stars and 28,456 global ratings. This multivitamin is great for men for their heart health and more. Vitamins like A, B6, C, D, E and K and thiamin, niacin and riboflavin are the key nutrients. These multivitamins are not great for men's heart health but are also good for blood pressure, immune healthy, muscle health and overall physical energy. These multivitamins are free of fructose corn syrup, gluten, dairy, wheat, artificial colors and artificial sweeteners.Best multivitamin tablets in Pakistan are available on our website.
Men's Daily Multimineral Multivitamin Supplement – Complete Immune Support with Antioxidant Properties by Vimerson Health (B01KE592JU)

This men's daily multivitamins in Pakistan has 4.5 out of 5-star ratings and 21,722 global ratings. The main ingredient in this supplement is Lutein. If you men feel lethargic, unhealthy, and have zero motivation then this supplement is great for you. This supplement not only enhances energy but also improves mood, immunity, and urinary function. For overall health, this supplement has a multivitamin complex that increases stamina and also enhances the nervous system, vision, antioxidant capabilities, and more. A blend of Selenium, Zinc, Vitamins A, C, D, and E along with B1, B2, B3, B5, B6, B12, Calcium, Lutein, Spirulina, and Magnesium is great for brain-boosting, digestion, immunity, and more. The ingredients are safe and effective and the supplement is free of soy, sugar, GMO, gluten, and dairy. We are providing Best multivitamin tablets in Pakistan for great health and other benefits.
Rainbow Light Men's One Multivitamin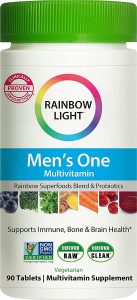 Rainbow Light Men's One Multivitamin has 4.7 out of 5 stars rating and 13,050 global ratings. This multivitamin supplement enhances immunity because of the highly potent zinc in it. It helps in the absorption of Vitamin D, Vitamin B2, Vitamin B5, Calcium, Zinc, and Folate. The ingredients used in this supplement are scientifically studied and are proven to enhance immune health and increase the overall energy of the body. The supplement is vegetarian and free of gluten. These multivitamins go gentle on the stomach and increase and support the digestive function of the body because of the enzyme that are plant sources and a blend of digestive support. If you want to use these multivitamins, you need not worry about the ingredients as the ingredients are tested and there are no artificial preservatives, flavors, colors, or sweeteners used. The multivitamin is also free of gluten, milk, wheat, peanuts, tree nuts, fish, eggs, or shellfish. Although we provide all this product information, the statements are not evaluated by the food and drug administration. You can buy best multivitamin tablets in Pakistan
Optimum Nutrition Opti-Men Immune Support Men's Daily Multivitamin Supplement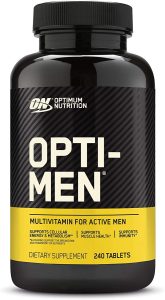 This Opti- Men immune support has 4.7 out of 5 stars and 6,566 global ratings. It has Vitamin C, Vitamin D, Zin, and Vitamin E also that together enhance the immune system of the body. The supplement is great for men as it has high potency multivitamins and it is the Best multivitamin in Pakistan. The blend of 75+ ingredients in it including 25 Vitamins and minerals, and a gram of amino acids make this supplement even the best for men. The product is safe for men to consume and it is recommended to store the product in the original container and keep it in a cool and dry place with it slid tightly closed. This is to prevent the crumbling of pills that occurs due to exposure to moisture. It is better to store them in the original jar and according to the prescribed way. You can take 3 pills a day with meals or as per your doctor or health care provider's prescription
Amazon Elements Men's 40+ One Daily Multivitamin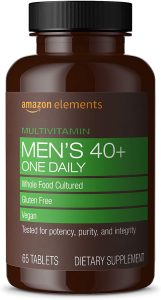 This multivitamin in Pakistan for men has 4.5 out of 5-star ratings and 1,174 global ratings. It has a blend of 21 vitamins and minerals and a botanical blend formulated especially for men over the age of 40. It is great for maintaining good health for men after the age of 40. The supplement contains no artificial colors, flavors or preservatives. It is safe to use as 67% of the ingredients are obtained from whole foods. The multivitamins are vegan and are free of gluten. They are safe to use and it is suggested to take them as per your health care provider's prescription.
Other Multivitamins
There are many other multivitamins available on Amazon that you can buy. We have imported vitamins in pakistan recommended the above-mentioned products depending on their ratings and review. The best-selling multivitamins on Amazon have been suggested to you above. But there are some other products also that you may try for example Vivioptal price in Pakistan many others that you can find on Amazon and other international websites.
How to buy the best multivitamin for men in Pakistan?
Shopping from international stores has always been a hassle. There are custom duty charges, service charges, taxes, and whatnot. Also, being sure about getting the exact and high quality product through online shopping is rare. Let's just put the fear and insecurities aside and shop from these international stores once again. Buy these nutritional supplements through a platform in Pakistan that provides you with the services enough to satisfy your shopping needs. Wellshop brings you a platform to buy products from Amazon, eBay, Walmart, Aliexpress, and other USA based websites. The hassle that you have to go through won't be the case anymore with Wellshop. Buy the best multivitamin in Pakistan and enjoy your online shopping in Pakistan. Not only will you get the genuine and high quality but the best multivitamin price in Pakistan. No matter where you are in Pakistan, you can buy these imported products in Pakistan and get them delivered to your doorsteps. You can buy the best multivitamins for men in Karachi. You can also buy the best multivitamin for men in Lahore and any other city or town in Pakistan. Just buy and enjoy your shopping.