Are you looking for mass gaining protein supplements or powders in Pakistan?
So why not fill your canvas with the best paint? Mass gaining is very useful in gaming and lets you work out even better in the gym. The toned muscles look good and for that, one has to go through a tough gyming process. One of the three important macronutrients in protein that a person needs in their diet is to have a great metabolic and physiological process. Protein also helps in immune systems and neurological processes and most importantly helps in the growth and development of muscle and their tissues. The increased protein in your diet provides you with a number of benefits that help you with your training goals be it improving fitness, losing weight, or having a healthy diet. If you are looking for mass gaining protein supplements or powders in Pakistan, then I suggest you not compromise your health over quality. Buy the high quality ones because your health matters a lot. You can now get the high quality imported mass gaining protein powders and supplements in Pakistan through a platform that ensures genuine and high quality products also at exceptionally less prices.
When talking about mass gaining, it is not just eating more calories or fats; it is all about eating right. These mass gaining supplements in Pakistan are crucial to an ad to your diet to put on mass. So we have recommended some high quality protein powders and supplements that give you the maximum benefit without compromising your health. So what are you waiting for?
Let the gains begin
The top 5 mass gaining protein powders and supplements in Pakistan
Here are the best and top selling protein powders and supplements on Amazon that you can buy through online shopping in Pakistan. We have enlisted the powders and supplements based on their ranking and reviews so it is sure that these products will provide the maximum benefits and are genuine in quality. Also, you will get the best and exceptional protein powder price in Pakistan. So, let's have a look at the best protein supplements in Pakistan.
Body Fortress Super Advanced Whey Protein Powder has 4.5 out of 5 stars and 20,218 global ratings. This strawberry flavored protein powder has creatine and other amino acids that help to train harder in the gym and build muscles faster. It has amino acids (to improve training recovery) and BCAAs from protein. The product is free of aspartame, gluten, and gimmick. You will get the best whey protein price in Pakistan. Just explore the website and you will see amazing products with exceptional rates delivering the maximum benefits that you are looking for.
The Optimum Nutrition Serious Mass Weight Gainer Protein Powder has 4.5 out of 5 stars and 31,518 global ratings. Serious Mass has the ultimate formula for weight gain. This supplement makes the ideal post-workout and between meals shake for achieving your goals. This instant powder has a vanilla flavor so you can enjoy your proteins with a great taste.
Serious Mass has calories, blended protein, carbohydrates, creatine, glutamine, glutamine acid, 25 vitamins, and essential minerals.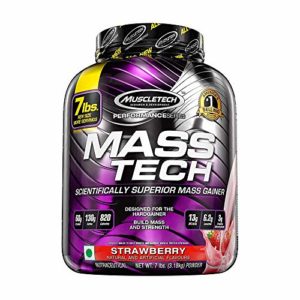 Mass Gainer Whey Protein Powder + Creatine | MuscleTech Mass-Tech Elite has a 4.4 out of 5-star rating and 2,578 global ratings. This strawberry flavored mass gainer delivers a researched combination of advanced carb matrix and creatine that triggers the insulin spike after a workout. It transports the creatine directly into the muscle and quickly replenishes glycogen. It is also important in supporting muscle recovery from hardcore workouts and also promoting muscle growth. You can use it in the morning, between your meals, or after a workout.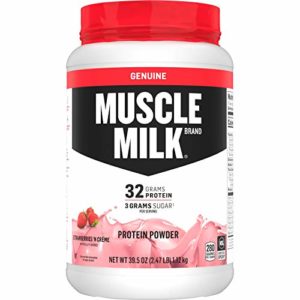 Muscle Milk Genuine Protein Powder has 4.6 out of 5 stars and 11,701 global ratings. This strawberry and cream flavored protein powder maintains muscle mass and helps in muscle growth and rebuilding. Not only that, the slow-releasing and fast-releasing proteins provide sustained delivery of proteins as compared to what the whey alone delivers. The powder also has Vitamins A, C & D and delivers 2 grams of fibers per serving also. The essential amino acids in this protein powder also help in muscle growth. Apart from taking it as a post-workout supplement, it can also be taken as an anytime snack.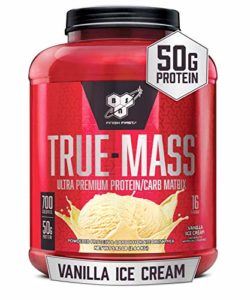 This BSN TRUE-MASS Weight Gainer has 4.5 out of 5 stars and 3,693 global ratings. This Vanilla Ice Cream flavored supplement has calories, carbs, and proteins and helps to add the quality mass to your frame that you have been looking for. It can also be used as post-workout and between meals drink. The mix of carbs and proteins helps in mass gaining goals and also recovers the muscles from intense training. This protein powder in Pakistan is of high quality and delivers maximum benefits.
How can you buy the top 5 mass gaining protein powders and supplements in Pakistan from Amazon?
Well, the answer is Wellshop. You can now easily buy the top 5 mass gaining protein powders and supplements from Amazon in Pakistan through Wellshop and those too at exceptional rates. This platform has made it easy for you to buy Amazon products in Pakistan with the service of cash on delivery for up to 6000/-. The facility of delivery services by Wellshop all over Pakistan makes it more fun and exciting and easy for you for online shopping in Pakistan. You will get the best mass gainer price in Pakistan so buy and enjoy your workout.