Skincare must be a part of your routine and when it is about a skincare routine, many of you might have some favorite cosmetics for daily use. It can be an eye cream or a moisturizer. But if you want soft and smooth skin and are having dull and flaky skin, then making scrub a part of your daily skincare routine would do best, and we are providing the Best scrub in Pakistan.
Well, exfoliation is a process very important in your skincare regime that removes dead cells from your skin and speeds up the shedding of dead skin cells. It also helps loosen the keratin plugs for new and healthy skin cells to replace the dead ones.  Exfoliation reveals your new, glowing and smooth skin that was hidden under the dead skin cells. Skin damage can occur due to many reasons like sunburn, chemicals, and different surgeries.
You might have seen advertisements on television where a girl applies scrub on her face, rubs it a little, makes lather, and then splashes water on her face and has fresh, glowing skin in a minute. Well, not exactly like that, but scrubs do work best for healthy, glowing, and smooth skin. Apart from removing dead skin cells and smoothing the skin, exfoliation has many other benefits as it helps in reducing wrinkles and fine lines and hydrates the skin also.
If you do not scrub or exfoliate your skin in routine, you may face dry, flaky, and dull skin and many other skin issues, for that we have the Best Scrub for oily skin in Pakistan.
Talking about the formulation of scrubs, you might have seen that scrubs have small really tiny granules somewhat like sandpaper that remove the dead skin cells and leave bright, luminous, and smooth skin. They are the most satisfying and essential staple in your skincare cabinet. If you decide to buy the Best Scrub in Pakistan then buy the high-quality imported scrubs/exfoliators from Amazon in Pakistan. Amazon has some best international brands trending on that offer some great scrubs.
Best International Brands for Scrubs on Amazon:
Here are some well-known international brands for face scrub in Pakistan on Amazon:
St. Ives
Neutrogena
Acure
Clean & Clear
Cetaphil
Dermalogica
Jack Black
Tree Hut
MAJESTIC PURE
Brooklyn Botany
OGX
Dove
SheaMoisture
M3 Naturals
Best-selling Scrubs on Amazon:
There are many scrubs on Amazon that are great for your face and the best face exfoliator. These scrubs provide many other benefits apart from just exfoliation. There you can find best scrub for oily skin in Pakistan from Amazon also.  Many of them are the best-selling scrubs on Amazon as they have great reviews and ratings. Some of the best-selling ones on Amazon are:
Aveeno Positively Radiant Skin Brightening Exfoliating Daily Facial Scrub, Moisture-Rich Soy Extract with 40,598 global ratings and 4.6 out of 5 stars (B0000632EN)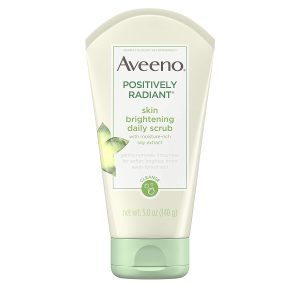 M3 Naturals Charcoal Exfoliating Body Scrub Polish with Collagen & Stem Cell with 10,379 global ratings and 4.4 out of 5 stars (B072J77FVC)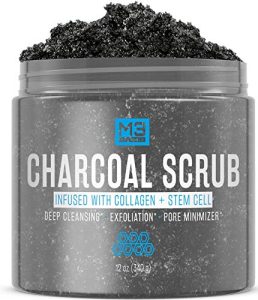 Himalayan Salt Body Scrub with Collagen and Stem Cells by First Botany with 1,721 ratings and 4.4 out of 5 stars (B08TM4QBDT)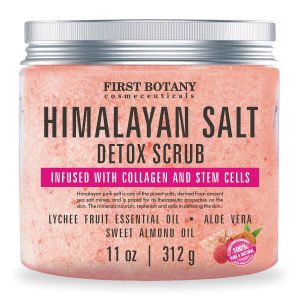 SheaMoisture Illuminating Hand and Body Scrub for Dull Skin with 1,901 ratings and 4.4 out of 5 stars (B07Q9C3YTQ)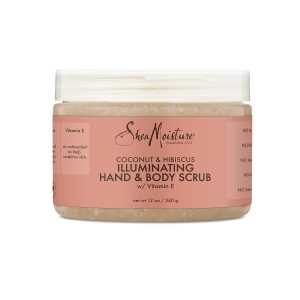 Dove Exfoliating Body Polish Scrub with 17,752 global ratings and 4.7 out of 5 star ratings (B0794N16ZD)
Era Organics Microdermabrasion Facial Scrub & Face Exfoliator with 12,768 global ratings and 4.4 out of 5 star ratings (B018H32LHQ)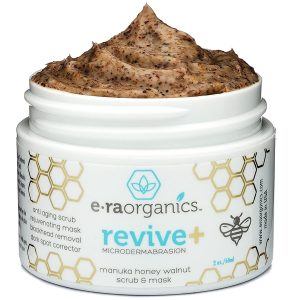 Majestic Pure Arabica Coffee Scrub - All Natural Body Scrub for Skin Care, Stretch Marks, Acne & Cellulite with 2,791 ratings and 4.4 out of 5 stars (B07G7QVSZT)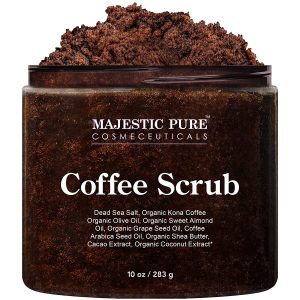 Acure Brightening Facial Scrub |For A Brighter Appearance | Sea Kelp & French Green Clay with 20,130 global ratings and 4.5 out of 5 stars (B003Z4OD24)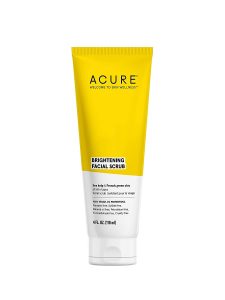 Pure Himalayan Salt Body Scrub with Lychee Oil with 13,923 ratings and 4.4 out of 5 stars (B01K8PEZMU)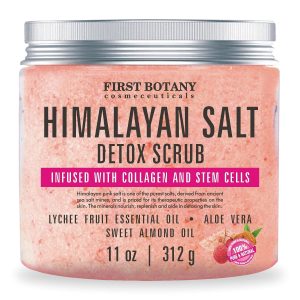 Skin Food Black Sugar Mask Wash Off - Black Sugar Scrub - Sugar Face Scrub to Hydrate and Nourish the Skin with 4,647 global ratings and 4.6 out of 5 stars (B01H6EHVK4)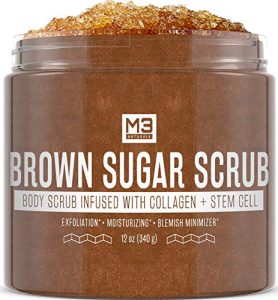 100% Natural Arabica Coffee Scrub with Organic Coffee, Coconut and Shea Butter - Best Acne, Anti Cellulite and Stretch Mark treatment with 11,155 global ratings and 4.3 out of 5 stars (B0169PFLFI)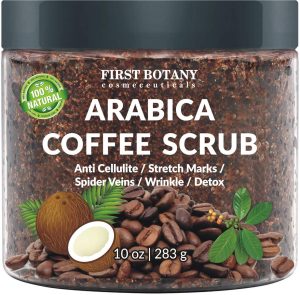 What factors to look for while buying a scrub for skin?
While you shop for a perfect scrub for your face and body, you must consider some factors like they should have beads that are perfectly spherical. Also, the ingredients should be very smooth like jojoba or oatmeal as it is the matter of your skin. Other ingredients like fruit enzymes and lactic acid also make the best of ingredients for an exfoliating scrub.
For dealing with breakouts, exfoliating acids like Beta hydroxyl acid (BHAs) are great as they dissolve oil and dead skin cells.
For dry skin, Alpha hydroxyl acid (AHA) re great ingredients of scrub and they help your skin glow without any heavy lifting, then you should use the Best face exfoliator.
And if you have combination skin, a hybrid of physical and chemical scrub would be great. Because the sandy texture of the scrub would remove dead skin cells while the acids in them would help your skin get rid of oil and won't disturb or bother your dry spots.
Scrubs can be of two types: Physical and Chemical.
Physical scrubs are those that have a powder base and sandy texture. They are great for use on sensitive skin and they do not have acids that might harm the skin. Also, the more water you add to them, the gentler they get. They have tiny granules to remove flakes and dead cells.
Chemical scrubs use chemicals like glycolic, salicylic, and lactic acid. These acids help remove dead skin cells and remove zit-causing oil from the skin. They are gentle enough to be used on all types of skin but those who have severe skin issues. They should not use.
Usually, finding the perfect scrub for your skin is not an easy job. It is not a one-time job that rather takes some trials until you find the suitable scrub for your skin type.
Tips for Exfoliation
If you want your skin to be perfectly exfoliated then you should use your scrub twice or thrice a week. There are some scrubs that can be used daily but it is good to give a break of a day. While you are scrubbing, make sure to avoid your eye area and rub it in a circular motion. Damp your skin first and then apply scrub onto your face. After you wash your face, apply some sunscreen with at least SPF 30 to protect your freshly scrubbed skin. Also, while you apply the scrub, make sure to not use too much of the product.
Procedure for using a scrub
Wash your face and apply scrub on to it. Rub it in a small circular motion for half a minute (30 seconds). And wash off with lukewarm water. Apply some moisturizer of sunscreen afterward as discussed earlier in this blog.
Buy best imported scrub from Amazon through Wellshop.pk
Buy best imported scrubs for your face and body from international brands on Amazon and get them delivered to your doorsteps in Pakistan within 15-20 working days. Wellshop.pk offers the fastest delivery and lowest rates than other companies in Pakistan. Not only that, but we also offer cash on delivery for up to 6000/- rupees. We are always working on improving ourselves and providing our customers with the best and genuine products. Your skin is sensitive and needs to be taken care of properly. So instead of buying local or cheap products, buy imported skincare products and these above-mentioned face scrub in Pakistan from Amazon through our website. Trust us once and you will not be disappointed. We will make sure that you have a great online shopping experience.