"Health is a state of complete harmony of the body, mind, and spirit. When one is free from physical disabilities and mental distractions, the gates of the soul open."
– B.K.S. Iyengar
Joints are a connection between our bones making our movements easy and for this, we have the Best Supplement for Joint Pain in Pakistan. If they are damaged, our movement interferes and it causes a lot of pain. There can be many reasons contributing to joint pain or their damage for instance osteoarthritis, sprains, strains, some medical conditions, or injuries. With the increasing age, the pain in joints becomes an increased and common issue. Your increased body weight causing an increased BMI can also cause joint pain. It can also range from mildly irritating to debilitating.
How to get rid of Joints Pain
There are several ways to get rid of joint pain. First of all, is to maintain your health and eat healthily. Control your weight and walk or exercise. People sometimes opt for medicines to get rid of joint pain, some go for injections, some go for physical therapy, some opt for topical agents and some try home care. Apart from all this, there are certain supplements that help you get rid of joint pain.  According to some researches, supplements containing chondroitin and glucosamine help with joint pain and also improve function. These two substances are components of cartilage that cushions bones and protects joints. These supplements are available in different forms like tablets, capsules, powder, or liquid. These supplements are safe to try as they do not cause any side effects and are great for joint care and joint support. So let's have a look at the Best Supplements for Joints Pain and get rid of your joint pain and have a great life because
"Physical fitness is the first requisite of happiness." – Joseph Pilates
Disclaimer
Before you buy or consume such supplements, consult your health care provider or doctor to see if the product is suitable for your personal circumstances. Also, the manufacturer may sometimes alter the ingredients or packing depending upon their need. So always read labels, instructions, ingredients, and warnings on the product or may visit the manufacturer's website for in depth detail of the product. Our statements are not intended to cure, treat or diagnose any health condition instead they are solely intended to provide our customers with all the information we have about the product.
Best Supplements for Joints Pain
We have enlisted these best joint supplements for joint pain which are the best-selling ones on Amazon. These supplements have been selected on the basis of their ratings and customer reviews. These supplements have no side effects and have great quality and provide maximum results. Following are the best supplements for joint pain in Pakistan from Amazon: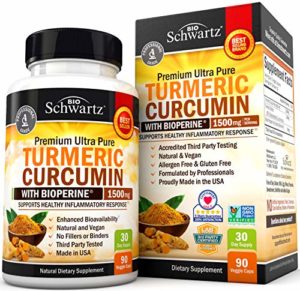 With 4.5 out of 5 stars and 56,954 global ratings, this Turmeric Curcumin with BioPerine – Natural Joint & Healthy Inflammatory Support enhanced with Bioperine is a natural turmeric powder and has higher absorption than turmeric teas have. It supports joint health and helps to get rid of joint pain. It also provides many other health benefits. The product is free of gluten, soy, milk, wheat, egg, peanuts, sweeteners, sugar, and shellfish. The ingredients of this product are Turmeric Curcumin, Turmeric, Turmeric Extract, and Bioperine. Other ingredients include vegetable capsules.
Glucosamine with Chondroitin Turmeric MSM Boswellia
This Glucosamine with Chondroitin Turmeric MSM Boswellia has 4.5 out of 5 stars and 17,735 global ratings. If you have discomfort in your joints or pain, then this supplement is suitable for you. This Glucosamine chondroitin increases joint lubrication and helps in smoother joint function. It promotes joint health and comfort and also supports cartilage. All of this also supports the overall health of a being. With this supplement you can get several benefits for your joints like it will help build cartilage, increase joint mobility, supports joint structure, increase joint flexibility, protection of joint tissues, and improve balanced inflammation. The ingredients of these Glucosamine tablets are Glucosamine Sulfate, Chondroitin Sulfate, Boswellia Extract, Turmeric Root Extract, Methionine, Quercetin, Methylsulfonylmethane, and Bromelain. Other ingredients include Vegetable Cellulose Capsule
Joint Support Supplement for Relief – Arazo Nutrition has 4.5 out of 5 stars and 17,641 global ratings. This supplement is a powerful joint relief as it repairs cartilage, increases the joint's mobility and flexibility, supports the structure of joints and joint tissues, and heals joint pain and joint inflammation, and more. These tablets for joint pain are suitable for both men and women. The ingredients of this Glucosamine Chondroitin Msm are Glucosamine Sulfate, MSM, Chondroitin Sulfate, Boswellia Serrata Extract, Hyaluronic acid, Turmeric, and Flavorless coating.   
Youtheory Joint Collagen Advanced with Boswelliahas 4.5 out of 5 stars and 16,419 global ratings. Collagen is the main component of joint cartilage and acts as a cushion between bones. With age, collagen diminishes which can cause several issues one of them is joint related issues. With this supplement, the vital joint protein is replenished and inflammation is reduced. It also revitalizes hair, skin, nails, ligaments, and tendons. This product is free of soy, dairy, and gluten. The active ingredients are Hydrolyzed Collagen (Chicken) and Proprietary Advanced Joint Blend.
Turmeric Curcumin Gummies with Ginger & Black Pepper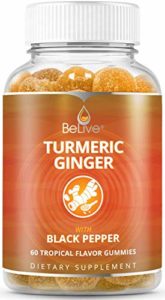 This Turmeric Curcumin Gummies with Ginger & Black Pepper has 4.5 out of 5 stars and 9,515 global ratings. These turmeric curcumin and ginger chewable gummies provide powerful antioxidants and anti-inflammatory compounds that support muscle and joint health, decrease inflammation and promote healthy skin and also support the immune system. These gummies are sand coated so they don't arrive sticky or melted. The ginger in these gummies has phenolic compounds that help in loss of appetite, pain, and motion sickness. The black pepper extract helps in better absorption. These gummies are suitable for kids and adults and have a delicious flavor. They have no bitter aftertaste, additives, or artificial colors. The ingredients of this supplement are Turmeric, Black Pepper Extract, Ginger, Sucrose, Caster Sugar, Tapioca Syrup, Water, Citric Acid, Pectin, Sodium Citrate, and Natural Flavor.
How to buy the best supplements for joint pain from Amazon in Pakistan?
Are you scared of shopping online because you think you might not get the same product that you order? Or you might be overcharged? Then worry no more. You can now buy Amazon products in Pakistan through Wellshop at lesser prices than other companies in Pakistan. With Wellshop, you are assured you will get high quality products and the same that your order. WellShop offers cash on delivery service for up to 6000/– rupees and also delivers all over Pakistan. Now buy the best supplements for joint pain from Amazon in Pakistan at exceptionally lesser rates and enjoy your online shopping in Pakistan. WellShop will provide you with the best joint health supplements are exceptional rates and great services.