Why Vitamins and Supplements are important for our Health?
Well, what do you think that you don't need vitamins? You may need to reconsider then. Also, keep reading to find out why supplements can help ensure you're getting all the essential vitamins and minerals that your body needs and requires for its healthy functioning.
Likewise, there are many vitamins and minerals that are essential, contributing to normal functioning of the human body. While dietitians recommend most vitamins and minerals be obtained through food sources, this isn't always possible and we don't take that healthy diet. Moreover, if you don't consume enough fruits, vegetables or other healthy foods, a multivitamin may be helpful and serves the purpose. Also, other instances where a multivitamin could be beneficial are if you have certain food allergies or intolerances, become pregnant, or have a disease or condition that affects nutrient intake, in that case a multivitamin also does wonders. Therefore, taking a daily multivitamin or other vitamins and supplements is common.
Well, the vitamins and supplements work hard to keep our bodies functioning properly and they help drive essential processes needed in our everyday lives so that we go through the day fully energetic. Also, each nutrient is on a mission to deliver health benefits that help and assist you reach your wellness goals. Moreover, our cells experience wear and tear as time passes, but proper nutrition can slow down this process apparently. The vitamins, like antioxidants, function to protect cells from environmental stressors, helping to support healthy aging. Also, we do our best to eat healthy, but some nutrients are hard to get from food alone and that is not possible at all the times for everyone. Therefore a multivitamin can ensure you meet your regular daily requirements for all the essential vitamins and minerals. Furthermore, a good nutrition makes for a durable immune system. Your immune system relies on what you put into your body, and certain nutrients are known for their immune-supporting benefits so you see multivitamin is the must-have.
Now, when thinking about taking supplements, it is important and necessary for you to first understand what supplements are. Well, supplements are described as something that enhances or completes something else when added to it. Well, since we are talking about nutritional supplements, they are meant to enhance your health and overall wellbeing. Likewise, you might ask yourself, why does my body need supplements, vitamins and minerals? Surely, I get all the vitamins and nutrients from the food I eat. And, that is not completely true at all.
WHY VITAMINS ARE IMPORTANT?
Well, vitamins and minerals are necessary for your well-being. Your body needs a certain amount of each of the essential nutrients, mineral and vitamins to function optimally.
Moreover, in addition to the incomplete and improper diet, there are many factors that pose difficulty for many individuals to meet their needs of vitamins and minerals—even within healthy, well-rounded diets.
Well, that said, don't dismiss healthy eating habits. Hence, your main focus should be getting most of the vitamins and minerals that you need through food and diet, while using supplements to provide additional nutrients that may be lacking in your diet and lifestyle.
TYPES OF SUPPLEMENTS
There are many different types of supplements; some of them are listed below:
traditional vitamins and minerals, such as "letter" vitamins
other specific nutrients found in foods, such as omega-3s
antioxidant compounds like Phyto nutrients and amino acids
non-food compounds found in the body, such as melatonin
other herbs
Of all the supplements, the most common types are the vitamins and minerals supplements. That's widely because vitamins and minerals are considered essential micronutrients the body needs in order to function properly and in a positive well-energetic manner.
Best international brands for vitamins and supplements on Amazon:
If you want to buy these vitamins and supplements in Pakistan, then buying the imported ones would help you a lot. There are many internationally known brands that make these high quality and effective vitamins and supplements. You can buy the vitamins and supplements from them and get them delivered in Pakistan at your doorsteps. These brands are also trending on Amazon. Some of them are listed below:
Nature's Bounty
Nature Made
Nature's Way
Qunol
Bronson
Centrum
Doctor's Best
Preser Vision
Viva Naturals
Smarty Pants
NATURELO and many more
Best-selling vitamins and supplements on Amazon:
Below are some of the best-selling vitamins and supplements on Amazon. They are considered best-selling because of high ratings, higher star ratings and customers' reviews. Some of them are:
One A Day Men's Multivitamin, Supplement with Vitamin A, Vitamin C, Vitamin D, Vitamin E and Zinc for Immune Health Support, B12, Calcium & more, 200 count with 32,452 global ratings and 4.7 out of 5 stars rating
One a day men's health formula multivitamin is a complete multivitamin specially designed for the leading concerns of men like heart health.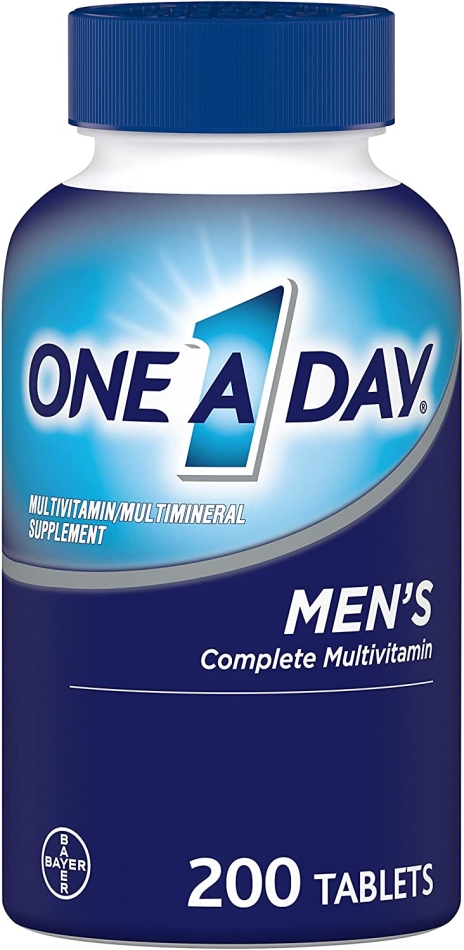 Shop Now:
One A Day Men's 50+ Natural Fruit Bites Multivitamin with Immune Health Support*, 60 Count (1 month supply), Gluten Free Vitamins for Men with Vitamin A, Vitamin D, Vitamin E, B6, B12, Zinc & more with 1,140 global ratings and 4.6 out of 5 stars rating
A multivitamin blended with Vitamins A, D, E, niacin, B6, B12, biotin, iodine and zinc for men 50-plus.
PreserVision AREDS 2 Eye Vitamin & Mineral Supplement, Contains Lutein, Vitamin C, Zeaxanthin, Zinc & Vitamin E, 60 Chewable Tablets (Packaging May Vary) with 4,321 global ratings and 4.7 out of 5 stars rating
PreserVision is the #1 doctor recommended eye vitamin based on 20 years of clinical studies to help reduce the risk of progression of moderate to advanced Age-related Macular Degeneration, & uses Lutein & Zeaxanthin.
Shop Now:
Emergen-C 1000mg Vitamin C Powder, with Antioxidants, B Vitamins and Electrolytes, Vitamin C Supplements for Immune Support, Caffeine Free Fizzy Drink Mix, Tangerine Flavor – 30 Count with 6,978 global ratings and 4.8 out of 5 stars rating
Helps support the immune system with Vitamin C and other antioxidants (2) with B Vitamins and electrolytes. Vitamin drink mix is a powder that dissolves quickly in water; it's fizzy, refreshing and caffeine-free.
Shop Now:
Sundown Vitamin B-12, Cellular Energy Support, Vegetarian, Vegan-Friendly 1000 mcg, ) Non-GMO, Free of Gluten, Dairy, Artificial Flavors 120 Count (Pack of 1) with 6,374 global ratings and 4.7 out of 5 stars rating
It is the product of Sundown, manufactured in United States with select ingredients from around the world. Sundown B-12 Vitamins 1000 mcg Time Release Tablets are vegan-friendly.
Shop Now:
Balance of Nature Fruits and Veggies – 90 Fruit and 90 Veggie Supplement Capsules – 100% Whole Natural Food – Red and Green Superfood, Better Than A Multivitamin, Vegan, No Fillers or Extracts with 6,359 global ratings and 4.3 out of 5 stars rating
Get your greens and reds with Balance of Nature Fruits & Veggies supplement. Studies show 9 out of 10 people do not eat the daily recommended fruits and vegetables. The answer is 100% natural, whole food, fruit and vegetable supplements. It contains the power of antioxidants and more than 8,000 combinations of phyto nutrients. Safe for children, seniors, athletes and can be used as a prenatal and while breastfeeding. None of the junk—just pure, potent plant power.
Shop Now:
Nature's Bounty Vitamin B12, Supports Energy Metabolism, Tablets, 1000mcg, 200 Ct with 45,091 global ratings and 4.7 out of 5 stars rating
Nature's Bounty B-12 vitamins aid in the conversion of food into cellular energy.
Shop Now:
Viva Naturals Elderberry, Vitamin C, Zinc, Vitamin D3 5000 IU & Ginger – Antioxidant & Immune Support Supplement, 2 Month Supply (120 Capsules) – 5 in 1 Daily Immune Support for Adults with 36,863 global ratings and 4.7 out of 5 stars rating
Viva Naturals elderberry capsules for adults combines the strength of not one–but five high-quality, immune-supporting ingredients.* Our patent pending formula includes sambucus elderberry and ginger help provide antioxidant support, zinc oxide (an essential nutrient) helps to promote immune function, and for an extra immune boost, we've added vitamin D3 5000 IU and vitamin C to bring you a powerful elderberry supplement great for any season.
Shop Now:
Sundown Garlic 1000 mg, 250 Odorless Softgels (Packaging May Vary) Non-GMOˆ, Free of Gluten, Dairy, Artificial Flavors with 6,438 global ratings and 4.7 out of 5 stars rating
100% free of gluten & wheat, dairy & lactose, artificial flavors
Traditionally used to support heart and circulatory health.
Made with pure garlic oil.
Shop Now:
Here are a few tips regarding supplements:
Avoid mega dose
Be aware of extras.
Check the expiration date.
Ask the experts.
Conclusion:
Hence it can be seen that supplements are a natural way of boosting our immune system and it is a cheap way of keeping ourselves and our bodies healthy. Moreover, they will provide antioxidants, help with oxidative stress, and our energy levels throughout the day in the best way possible.
We Welshop.pk offer you great opportunity to buy imported vitamins and supplements from Amazon at lesser prices and in 15-20 working days and get those delivered to your doorsteps in Pakistan. We make sure that we offer the best of our services and make sure that our customers get the exact products that they order. Also, we work honestly and are always trying to improve ourselves. Shop from us the high quality, genuine and best vitamins and supplements and have a great online shopping experience.