With increasing facilities, our lives are becoming more static and there is less movement, less exercise, and more health issues so for this purpose we need advanced Blood Pressure Machine. Also, as the visits to doctors for normal health checkups have reduced due to pandemic the risks of having more health problems is increasing. Most of them don't even show any symptoms that can cause more risk.
If you have an issue of hypertension, high blood pressure, or low pressure then you know very well that these issues need to be catered to very carefully. You need to keep a recoded of your blood pressure with a general checkup with a Blood Pressure Machine. In order to have an image of your overall health. Also, having constant low blood pressure can cause severe health issues and faintness, etc., and having constant high blood pressure may cause heart attacks and thickness of vessels that may not be symptomatic but can cause severe health concerns later on.
In order to avoid any risk related to healthy, we must keep a track of our health. One of them is blood pressure. It has now become a necessity to have the best blood pressure machine to have at home. Though you may not be an expert in medicine you can measure your blood pressure with some highly developed devices available in the market. Also, you cannot always visit a doctor for your blood pressure checkup. So why not buy these blood pressure monitoring devices at home and make your lives easy?
How do blood pressure monitors work?
These blood pressure machines come in different styles and features. They work by inflating and blocking the blood flow for a while. Then the pressure is released due to which the blood starts flowing slowly. The sensor in these devices checks and detects the flow of blood through the brachial artery. The devices measure the systolic blood pressure and diastolic blood pressure giving an idea and statistics of our blood pressure.
Benefits of having blood pressure monitors at home:
Save your visits to doctors just for blood pressure checkups.
You can keep a track of your blood pressure and find a solution to your health issues on time.
Cost effective.
Helps you adopt ways to maintain your blood pressure.
Let's keep a track of blood pressure so that you know what routine and food suit you and whatnot.
Easy to operate and measure the blood pressure.
Easy to keep in house and carry along in case you are traveling.
Best international brands for blood pressure monitors on Amazon:
If you want to buy these blood pressure monitors to keep at home in Pakistan, then buying the imported ones would help you a lot. There are many internationally known brands that make these high quality and genuine devices. You can buy the best bp apparatus in Pakistan from them and get them delivered in Pakistan at your doorsteps. These brands are also trending on Amazon. Some of them are listed below
Omron
Paramed
iHealth
Vive Precision
RENPHO
Homedics
BOB AND BRAD
Beurer
ALPHAGOMED
LotFancy
Medline
iProvèn
CONTEC
COLEBY
LifeSource
Care Touch
Khanka
A&D Medical
Choice
HealthSmart
Drive Medical
Best-selling blood pressure machines on Amazon:
Below are some of the best-selling bp apparatus on Amazon. They are considered best-selling because of high ratings, higher star ratings and customers' reviews. Some of them are:
ALL NEW 2021 LAZLE Blood Pressure Machines with 28,723 global ratings and 4.7 out of 5 stars rating (B07WCQVV71)
This blood pressure monitoring device comes with LED screen that helps you have a clearer reading of your blood pressure. This is an automatic device and gives the accurate reading. Just press the "Start" button and it will measure your blood pressure and heart rate in just 30 seconds. It is also light in weight and portable so you can carry it along while you are travelling.
MMIZOO Blood Pressure Machine Large LCD Display & Adjustable Wrist Cuff with 22,955 global ratings and 4.3 out of 5 stars rating (B07XYW52VQ)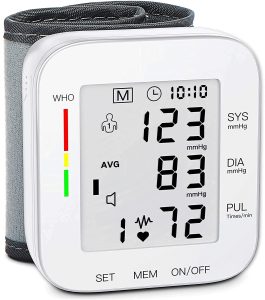 This device has LED light to read measurements and also voice broadcast that reads the results to you. This machine is really helpful with people with poor vision and can be turned off as well. It also detects irregular heartbeat during measuring blood pressure.
Paramed Blood Pressure Machine Upper Arm with 18,497 global ratings and 4.7 out of 5 stars rating (B07JN1DF1D)
This blood pressure monitoring device has a LED screen display and also has voice broadcast. It also comes with 4 AA batteries and has the function of time and date.
Silver Blood Pressure Machine, Upper Arm Cuff, Digital Bluetooth Blood Pressure Machine by Omron with 15,871 global ratings and 4.6 out of 5 star ratings (B07RYBKNC2)
This blood pressure monitoring device has unlimited battery and also works with connect free application. It gives precise readings and also gives accurate results.
Konquest KBP-2704A Automatic Upper Arm Blood Pressure Monitor with 15,202 global ratings and 4.6 out of 5 stars (B077CXGSJW)
This is also one of the best blood pressure monitoring device and had a big screen that gives visible results. This automatic blood pressure device gives accurate results.
Medisana Blood Pressure Monitor with 13,507 global ratings and 4.4 out of 5 stars (B008KWO3Q2)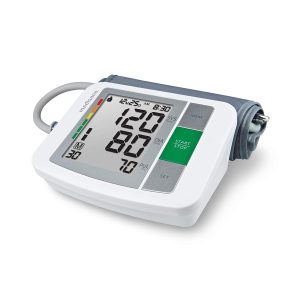 This device measures blood pressure and pulse rate also. They contain a cuff and a large display screen for results and readings. It comes with a storage bag to support the device.
OMRON Gold Blood Pressure Monitor, Portable Wireless Wrist Monitor with 7,013 global ratings and 4.4 out of 5 star ratings (B07S2H45NN)
This blood pressure monitor can store up the reading of blood pressure up to 200. They work with connecting free app. It also comes with an indicator that indicates of the systolic and diastolic measurements of blood pressure are out of normal range.
Alcedo Blood Pressure Monitor Upper Arm, Automatic Digital BP Machine with 2,862 ratings and 4.6 out of 5 stars (B086N2Y76Y)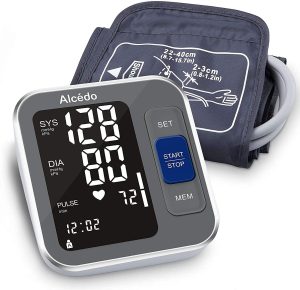 The screen of this device is clear and the numbers and readings appear clearly on screen making it convenient for people to read readings. Also, it has a push button that gives the readings when pushed. It can store up to 120 readings of each users blood pressure and allows two people to check their blood pressure. It comes with a cuff that fits arms of circumference 8.7" – 15.7". The device is easy to use at home and give accurate readings of blood pressure.
Wellue Armfit Plus Blood Pressure Monitor + EKG, Upper Arm Cuff BP Machine, EKG Monitor, Normal Heart Rhythm in 30 Seconds, Built-in Bluetooth with 1,240 global ratings and 4.6 out of 5 stars rating (B08NDV9KJ7)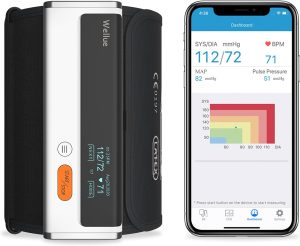 This device measures blood pressure and EKG. It also comes with a Bluetooth option which lets the data to be sent to the application that has been installed on your phones. Also, it comes with a one button that reads blood pressure when pushed. It also has OLED screen that gives clear readings. It is light in weight, small in size and can be carried easily along while travelling.
MOBI - Blood Pressure Cuff - Wrist Blood Pressure Monitor - Automatic BP Cuff with Large LCD Display with 1,770 global ratings and 4.3 out of 5 stars (B077W4H81H)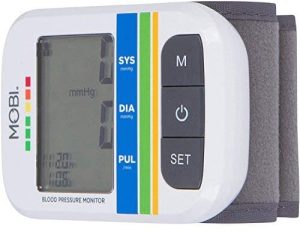 This device not only measures blood pressure but also checks heart health giving accurate and precise readings and is simple and easy to use. One-touch button gives a reading of blood pressure when pressed. The results appear on the LCD screen and show the systolic and diastolic readings of blood pressure. It also comes with a hypertension light detector that alerts people about any irregular blood pressure, heartbeat, or pulse.
Buy Best Blood Pressure Monitors in Pakistan through WellShop
We WellShop offer you a great opportunity to buy imported blood pressure machines from Amazon at lesser prices and in 15-20 working days and get them delivered to your doorsteps in Pakistan. We make sure that we offer the best of our services and make sure that our customers get the exact products that they order. Also, we work honestly and are always trying to improve ourselves. Shop from us the high-quality, genuine, and best blood pressure machine and have a great online shopping experience.